UK education is recognized and respected throughout the world. Your UK qualification will be a solid foundation for building your future, boosting your career and prospects for a higher salary. UK universities, colleges, and schools will provide a vibrant, creative and challenging environment in which to develop your potential. Quality standards for UK institutions are among the best in the world. Universities, colleges, and schools continually have to prove that their courses meet strict criteria. Many other countries are now trying to follow the example of the UK.
There are more than three thousand educational institutions that welcome international students in the UK. You can choose from a variety of routes through the education and training system, combining different types of course according to your needs and abilities. In the UK, you could specialize in anything from computer games programming, ocean engineering, music technology, meteorology or underwater photography to multimedia design, anthropology, women's studies, hotel management or dance.
There are currently more than 10,000 Bangladesh students studying in UK universities and colleges.
Get ready for all the important information you need to make a decision about the study abroad in the UK! Click on the tabs below to find out about the world-class universities & colleges for Diploma, undergraduate & postgraduate programs in the UK and practical information on applications, admissions, fees, scholarships, visas, local life and more….
Merit and need-based fee waivers are awarded to international students. Candidate with strong academics, good performance in standardized exams and extracurricular achievements would be eligible for scholarship awards and financial assistance. To benefit from these opportunities, one has to make sure to send all the required documents by particular deadlines.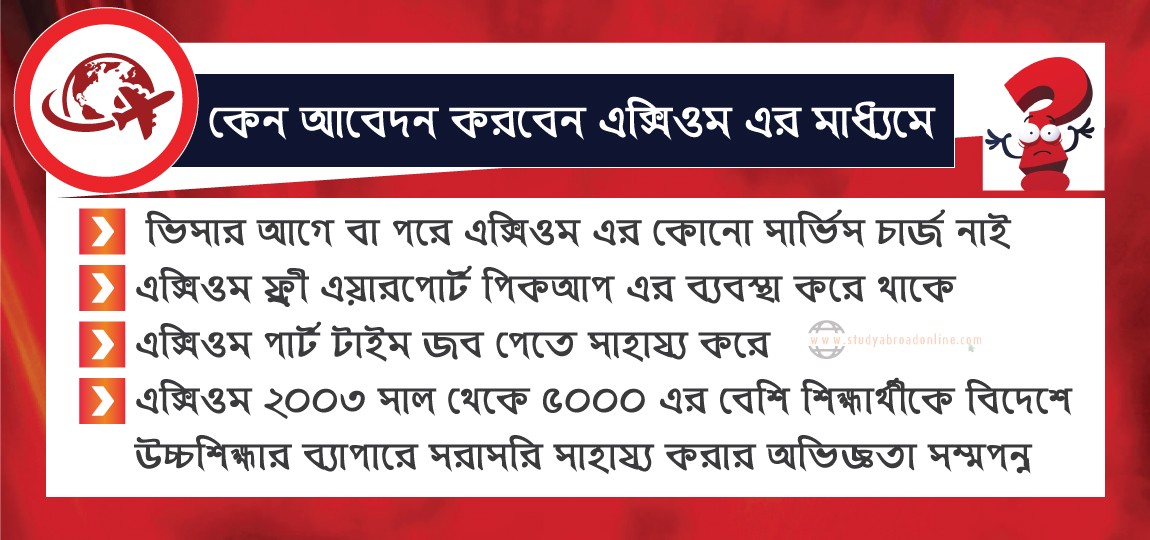 2 sources of benefit are :
NHS : All international students staying in UK for the purpose of education for 6 months or more qualify for free health care through the National Health Service.
NATIONAL UNION OF STUDENTS : Loads of discounts are negotiated on behalf of their student members on things like books, stationery, food, clothes, travel and entertainment. All students are entitled to free NUS membership.
If your visa is refused and you have paid a deposit to your institution for tuition fees then you will receive a refund of the deposit when you send the institution a copy of your visa refusal letter from the High Commission. A few institutions deduct a small amount usually no more than £ 100 for processing the refund payment.
How can I finance my studies?
As compared to the cost of studying in India only, going abroad can seem to be steeply expensive. However one must keep the possible returns in mind which are in the form of quality of education, international exposure and boost to ones career when evaluating the costs of studying abroad. A student can rely on sources like family funds, bank loans, scholarships, bursaries, sponsorships etc to provide for funds required by him.
Bank Loans
Most nationalized banks offer students loans at competitive rates for considerable time periods which may enable a larger section of students to go and study abroad. They will ask for a collateral security to be pledged. You can even consider the possibility of an international bank loan. Kindly ask your Edwise counsellor for further details.
Such organizations may also be able to help the student to fund his studies abroad.
A blood relative is always preferred but other sponsors can also help to fund your education in the UK provided a logical explanation is given as to why he is willing to sponsor you.
Some universities require the students to pay part of the tuition fees in advance in order to reserve a place for them in the university. In any case we recommend that all students should make a deposit payment as it facilitates in getting a student visa.
British Universities do not have a formal ranking system but the government does take the responsibility to monitor and control the quality of education provided by each university through the Quality Assurance Agency for Higher Education. The Government conducts a Research Assessment Exercise once in every 5 yrs. which determines the level of research activity in a university department. The departments are graded as high as 5* and as low as 1. General League Tables prepared by newspapers like the Sunday Times and Financial Times can also be checked.