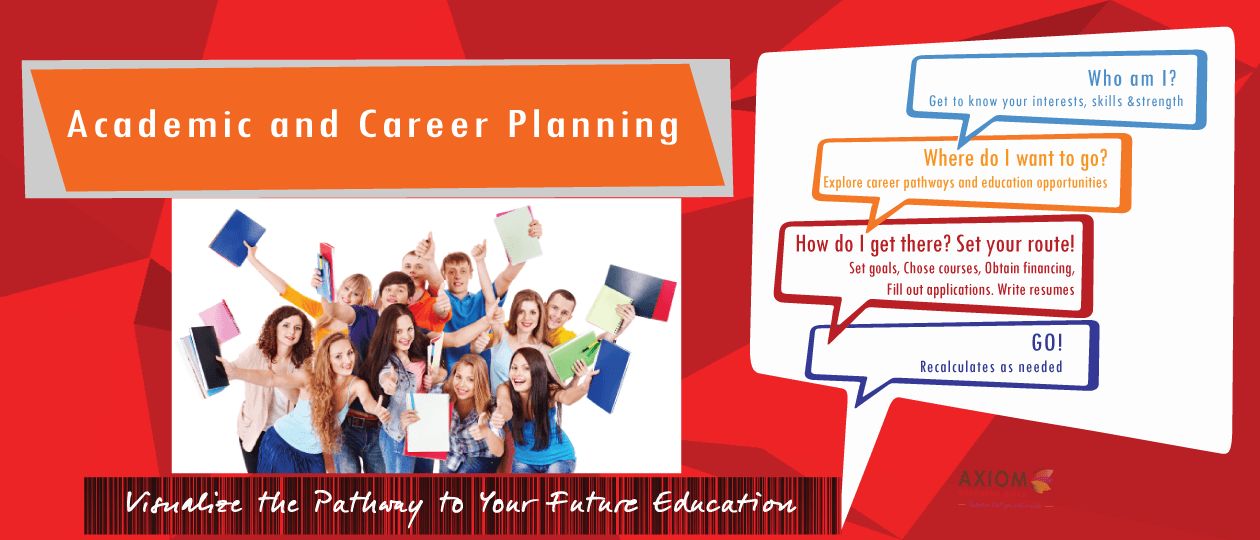 We will review your academic, professional, financial circumstances along with your future study & career plan. According to your needs, we will assist you in selecting a suitable course, place of study & all other related issues. You will get proper guidance from us, which will fully comply with the updated visa requirements.
Our dedicated and well-experienced Education Advisors' are always ready to assist you in every step, from your first visit to our office, admission, visa procedure etc. till your departure to your desired destination.
A large number of students continue to choose a career based merely on the fact that their friends are doing the same thing or because their parents told them to do so. This, however, may not be the best way to go about it.
We at Axiom education group understand the dilemma of the students while choosing the pathways for higher education. To cater to such needs, Axiom education group has designed the Axiom Student Success Plan Program.
Axiom is committed to assisting students as they discover and define their educational, personal and emergent life goals. The advising relationship is a collaborative partnership through which students may gain an understanding of academic disciplines and university resources, and be supported and challenged to become contributing members of the community.
We at Axiom Education group help students to identify their strong points and even their weaknesses so that they can choose the right career path for themselves that will bring forth a lucrative professional life. The Axiom Student Success Plan is a systematic assessment methodology involving the analysis of a student's attitude towards a particular subject or field, the interests of the candidates in certain related activities, and most importantly the personality of the individual, which brings the characteristic traits, qualities and shortfalls into the forefront. The intersection of these three sets of information about a student marks out the career path they would like to follow.
Axiom Student Success Plan provides students with a career path with proper justification on the basis of their knowledge set, aptitude, and interests. In addition, it saves the student time and effort. One wrong career step can make an investment unworthy, in this case, the money used for the student's education. Whereas, the right career path selected can always make the optimum use of a student's given set of skills.
Axiom Student Success Plan is suitable for students of all stages, be in Class X, Class XII or in undergraduate college. Even graduates or working professionals who are planning a career makeover must undergo the planning process. Proper career planning gives students a boost in confidence and helps them to understand their personality. In totality, Axiom Student Success Plan at Axiom Education Group is a must for students who are willing to have a promising career ahead.
The importance of program planning cannot be overemphasized. A sound academic program indicates a growing intellectual maturity and sharpening of focus. A poorly planned program demonstrates the lack of clear direction.
 The Right Information in a Structured Way: It gets the student the right information in a structured way so that the student can use the information promptly, enabling him/her to choose the best career course.
 Open up Choices: ASSP will open up choices about which the student may not be aware of.
 Gives Confidence: ASSP gives confidence to the students while making a decision on their future career course.
 Helps Understand Personality: ASSP helps students to understand their individual personality that influences their academic decisions.
 Self-Improvement Plan: ASSP is a self-improvement plan for personal development and growth.