Want to study in Australia? We're not surprised! It's one of the world's most popular study destinations, and it's not difficult to understand why…
What comes to mind when you think of Australia? Sandy beaches and a deep azure ocean, cold cans of lager, and barbecues? Perhaps you might add some weird and wonderful creatures (amongst which more than a few are poisonous enough to kill you), miles upon miles of unpeopled wilderness, and an almost maniacal love of sport.
There is a large element of truth to these common suppositions. Australia does boast two beaches known as the Eighty Mile Beach and Ninety Mile Beach (and 10,683 other smaller beaches on its mainland alone), Australians – particularly students – do enjoy a drink on the weekend, and the warm weather does indeed lend itself to the outdoor preparation of food. But this by no means an entire portrait of the country – for one thing, it misses out any mention of Australia's impressive higher education system.
Get ready for all the important information you need to make a decision about the study abroad in Australia! Click on the tabs below to find out about the top universities & colleges for Diploma, undergraduate & postgraduate programs in Australia and practical information on applications, admissions, fees, scholarships, visas, local life and more….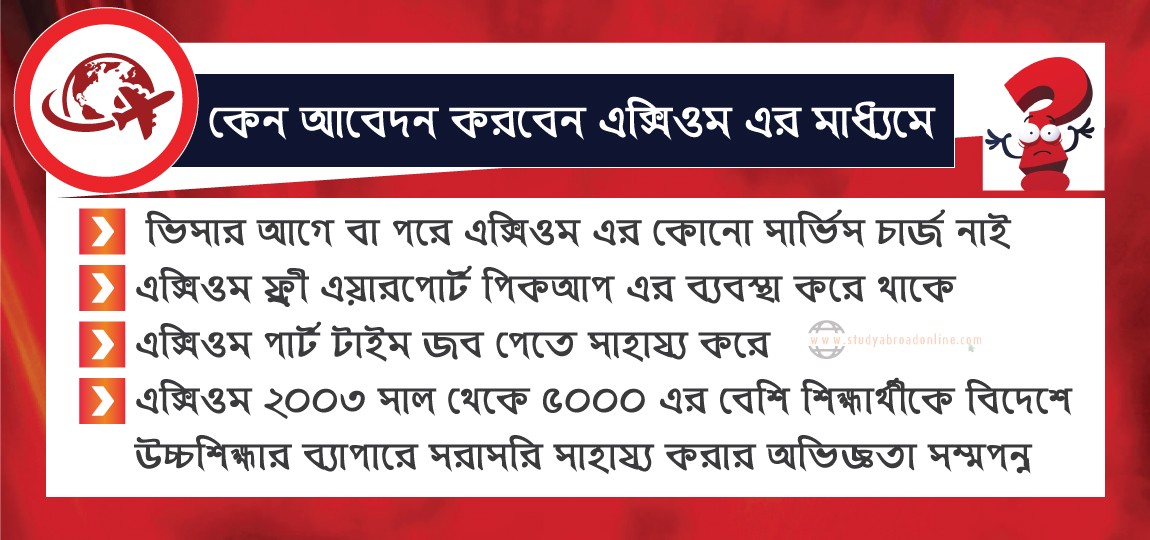 ---
Recent changes to Australian student visas
Axiom has been sending students to Australia and other countries for 16 years. Axiom International has trained counselors. They have the experience and expertise to assist students. Our office provides students with the following assessments –
 FREE counseling and information on various courses and institutions.
 Application Forms, Brochures, Guides etc.
 Admission Assistance.
 Visa Counseling.
 Travel and accommodation arrangement.
 Procuring Residential Facilities with Bangladesh for students going abroad.
 Insurance, Bank A/c in Australia, Student Loan, Flight ticket Booking and other necessary facilities.
Yes, as the Australian Government recognizes Bangladesh Universities so credit transfers are possible. However for this, the students are required to submit their course syllabus to the institution and it can take minimum of 6 months for credits to be granted.
Australian Universities are recognized worldwide. The reason why Australian Universities do not insist upon students going for a GMAT or GRE  because these exams are for American Universities so students have to give these tests to be judged by American Standards. Australia and Bangladesh recognizes each other's degrees. However it may be asked by some Universities to assess the overall ability of the student.
The average time taken by the Australian High Commission for the visa procedure is anywhere between 8 to 12 weeks depending on the individual's background, so the students needs to apply for their visa's at least 3 months prior to their course commencement.
One cannot rate universities in Australia as there are numerous universities and all are regulated under the Vice Chancellors Committee, which follow the code of ethics. Students generally follow the market trends like MBA or BBA, MIT etc., but it would be unfair to judge universities as one can only compare the course structure and faculty.
With effect from 1st September, 2007 all students who have completed 2 years of study in Australia can get a Skilled Graduate Visa, whereby they can work for up to 18 months.
Currently, a student needs to cover up to 120 points to become eligible for the PR, This points can be obtained by a combination of the following course, age, English language proficiency, duration of the study in Australia, studying in a regional area, working part-time. For further details and to test your points, visit the following website:  http://www.immi.gov.au
The average starting salary that you can earn is between a$ 2500 to a$ 4000 per month.
Yes, IELTS is a mandatory for visa requirement.
Spouse / dependent of a Student – Visa holder in Australia gets a Dependent Visa and a valid work permit for the same duration as the primary applicant. This is applicable for Master's degree application.
---