There are six types of Japanese government-sponsored scholarships available under the Japanese Government (Monbukagakusho) Scholarship program: those for research students, teacher training students, undergraduate university students, Japanese studies students, college of technology students, special training students.
Those wishing to apply for a scholarship should meet one of the criteria listed below:
 Recommended by a Japanese embassy or consulate general (Embassy Recommendation).
 Recommended by the Japanese university which will accept you (University Recommendation).
 Selected by the Japanese university in which you are currently enrolled if you are a privately-financed student already studying in Japan (Domestic Selection).
Monbukagakusho Scholarship
The Japanese Ministry of Education, Culture, Sports, Science, and Technology offers six types of scholarships every year for undergraduate and graduate degrees. They offer awards of around ¥117,000 (£742) to ¥148,000 (£940) per month, depending on which scholarship is awarded. There are a number of requirements for these scholarships, including a language requirement depending on the institution you plan to attend and the level of study you are pursuing. Each scholarship has a set number of new recipients, ranging from 86 to 4,042 new recipients.
Take a look at this website for more information on the Monbukagakusho scholarship.
Before you apply for this scholarship
You must be selected or recommended in order to apply for this scholarship. Here are the three ways that can happen:
 University Recommendation: by the Japanese university that will accept you
 Embassy Recommendation: from the Japanese embassy or consulate general in your home state
 Domestic Selection: through the Japanese university in which you are currently enrolled (if you are already studying in Japan)
Ask your institutions international office for more information before applying.
Nagoya University Global 30 Undergraduate Scholarship
This scholarship is for international students that qualify for acceptance to Nagoya University. They will assess academic merit, extracurricular activities, and financial need. This scholarship provides full, 4-year tuition at the University and ¥500,000 (BDT 3,65,000) annual stipend for personal expenses.
If you think Nagoya University is a good fit for you, make sure to turn this scholarship application in when you apply to the university. Applications are posted in the fall, but be sure to check their website for additional instructions and deadlines!
Japan Foundation for UNU Scholarship for Developing Countries
This scholarship is for students pursuing a Master of Science in Sustainability at the United Nations University – Institute for the Advanced Study of Sustainability. The Japan Foundation for UNU will provide a full tuition waiver and a monthly allowance of ¥150,000 (BDT 1,10,000) for 24 months (which may vary depending on how much the recipient's lifestyle calls for). All eligible students must be from a country listed on the OECD DAC list, and this must be their first master's degree.
There is no separate application for this scholarship; eligible students will be automatically considered when they apply to the university.
As the program begins in September, the deadline for entrance into this program is usually in March, but make sure to look at the website. Click here for more information on this scholarship.
Hopefully, these three scholarships have inspired you to look further into the many opportunities available for international students in Japan. Be sure to check with your institution to see if there are any scholarships or grants, but feel free to look outside of your institution to see if you qualify for any additional awards!
Most scholarships cover a part of a student's education and living expenses; only a few covers all the expenses. Therefore, students should check the cost of study in Japan carefully and plan their funding, without relying on a scholarship. Some scholarships for international students in Japan can be applied for in the student's home country before the student enters Japan, but most scholarships must be applied for in Japan after the student's arrival.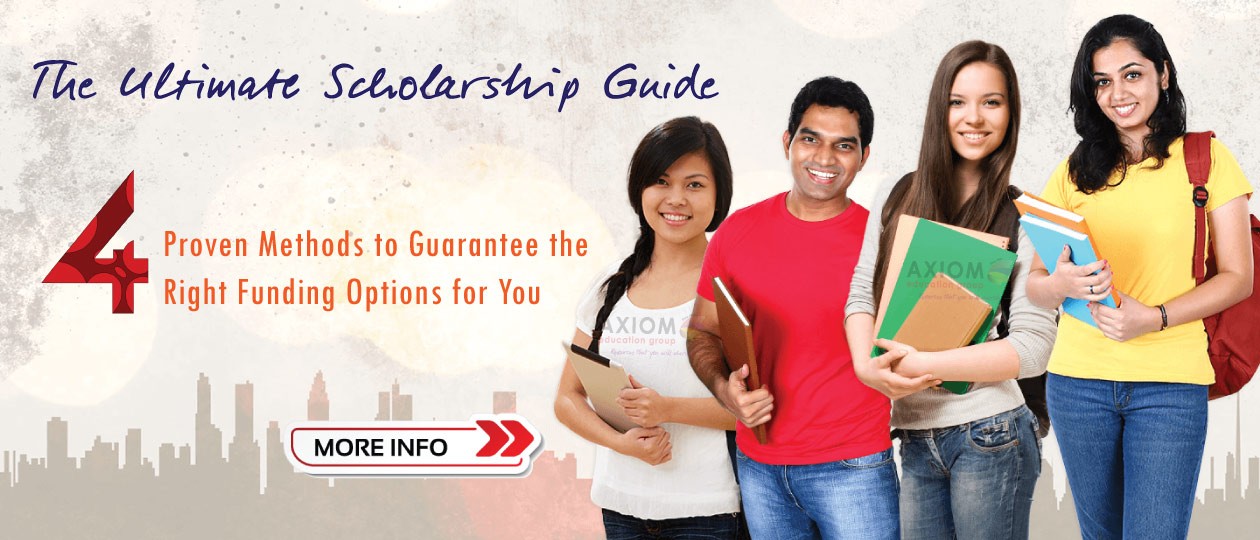 Axiom educational advisor will be on hand to provide you with funding resources and further scholarship information. You could also download our complete guide on how to find scholarships to study abroad. To meet your personal Axiom Education Advisor, Contact Axiom Dhaka Office or send an inquiry:
Get your all study related matters in Japan !